Hyundai will present the results of a first-of-its-kind in-car cleanliness study at NUMA DataCity DemoDay on 12th June
The pioneering project was conducted in association with Hyundai CRADLE, Total, Ubeeqo and AI startup GreenTropism
Hyundai is committed to developing an in-car cleanliness detection for shared vehicles
Hyundai CRADLE will continue scouting for innovative ideas and technologies to develop solutions for the cleanliness of shared cars
Hyundai will present the results of a pioneering in-car cleanliness project at DataCity DemoDay in Paris on 12th June.
The study, a first-of-its-kind, was conducted in association with Total, Ubeeqo and AI startup GreenTropism. It aims to explore how to maintain the comfort and safety of passengers within car-sharing vehicles. DemoDay is a public event where the results of 11 experimentations will be unveiled, and is considered the high point of the NUMA DataCity programme.
Shared vehicles expected to experience a growth rate of 20 per cent in coming years. When it comes to cleanliness, consumers expect the same standards as they would for private car. However, cleaning is demanding and time consuming, and with so many people using each vehicle, it will be a challenge for operators to meet the required levels. Therefore, Hyundai partnered with Total to develop a new detection and measurement system of cleanliness level for shared vehicles. As part of the experiment, they inquired about the most common sources of in-car dirtiness, attempting to learn about and identify those that represent the highest risk or inconvenience for passengers.
The partners decided to collaborate with GreenTropism to address the issue. GreenTropism is a startup that combines physical sensors and AI algorithms based on spectroscopy data in shared cars to gather information on the cleanliness of the interior. This includes images, data about stains and ambient air. This data analysis is useful in detecting the presence of coffee stains or grease, and the aim is to understand which criteria are the most relevant in order to measure the level of cleanliness inside a car.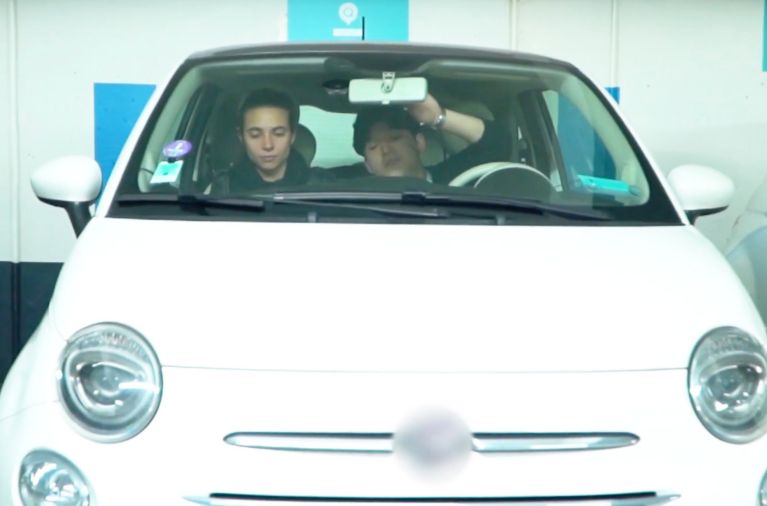 This in-car cleanliness study is part of Hyundai Motor Company's commitment to Open Innovation, which develops active partnerships within untapped fields. This allows Hyundai to discover new creative and innovative ideas that will expedite the development of advanced future mobility technology. 
Hyundai decided to collaborate with Total within the framework of the DataCity programme to discover new technology solutions enabling new business models in the fast-growing mobility market. Hyundai is committed to delivering higher class vehicles by guaranteeing their cleanliness, while TWIP (Total Wash in Paris), a service by Total, is looking into ways to revolutionise the cleaning process of shared cars.
Hyundai CRADLE partners and invests extensively in promising global startups to accelerate the development of advanced future technologies that align with Hyundai's long-term strategic direction such as mobility services and artificial intelligence. This kind of comprehensive in-car cleanliness study has never been done before, and demonstrates Hyundai's pioneering and collaborative spirit.
If you would like to attend the DemoDay event and see the results of the in-car cleanliness study revealed live, you can register for tickets here.
---
About NUMA DataCity
NUMA is an innovation pioneer based in France. DataCity is a unique multi-partner programme that brings together the City of Paris, corporate partners and a selection of startups to develop innovative, practical solutions to urban challenges using data. Hyundai works together with its main corporate partner Total, technical partner Ubeeqo, which is part of the Europcar Mobility Group, and AI startup GreenTropism, which specialises in spectroscopy. Through these associations, Hyundai is leading the development of a solution to improve future car-sharing experiences.
About Total
Active in more than 130 countries, Total is a major energy player that produces and markets fuels, natural gas and low-carbon electricity. Its 100,000 employees are committed to better energy that is safer, more affordable, cleaner and accessible to as many people as possible. Total sees innovation primarily as a state of mind, a way of working and being. Advances and technological capabilities can speed up the appearance of new products, services, processes and technologies that anticipate social changes, as well as customer wants and needs.
About Ubeeqo: a Europcar Mobility Group service
Europcar Mobility Group is a major player in mobility markets and listed on Euronext Paris. Its mission is to be the preferred 'mobility service company' by offering alternative attractive solutions to vehicle ownership, with a wide range of mobility-related services: vehicle-rental, chauffeur services, car-sharing and peer-to-peer car-rental. Ubeeqo was established in Paris in 2015 and has achieved ever-growing success since the introduction of its service. Having won a total of 850 on-street parking spaces which complement its existing proximity offer, Ubeeqo now stands out as the number one car-sharing operator in the French capital.
About GreenTropism
GreenTropism is a French company that helps industrialists meet the challenges of digitalization and process monitoring through collaborative and secure software and application solutions. GreenTropism develops and implements concrete machine learning tools specifically applied to spectroscopy, to facilitate decision-making and real-time control. The company's expertise applies to various industrial fields such as agro-industry, the environment, petrochemicals and textiles, as well as consumer subjects such as connected objects and food security.