Hyundai Motor will display its full fleet of WorldSBK cars during Pirelli Italian Round in Imola
These cars are used in various capacities, such as providing race direction and transporting medical personnel
From high-performance to eco-friendly models, Hyundai's fleet demonstrates diversity of brand's mobility offer
Hyundai Motor is to display its full fleet of cars at the fifth round of the MOTUL FIM Superbike World Championship (WorldSBK) in Imola, Italy.
Hyundai's line-up demonstrates the diversity of the brand's mobility offering, from the high-performance i30 N to the eco-friendly Kona Electric, as well as two of the company's SUV models. Over the next three seasons, customised editions of some of Hyundai's most popular production cars will be used in various capacities for WorldSBK, such as providing race direction or transporting medical personnel.
Throughout this partnership, Hyundai will be also working closely with WorldSBK to carry out diverse, innovative initiatives that will provide Hyundai N Brand experiences to fans. This allows visitors to experience the company's N Brand models through on-site test drives, using racetracks and external circuits.
We are thrilled to present our full fleet of Hyundai WorldSBK models at Imola. From high-performance models like the i30 Fastback N Safety Car to the Kona Electric Race Director Car, these vehicles really demonstrate the diversity of the Hyundai range.
Hyundai to present two kinds of fleet at Imola
Imola has become a regular fixture on the WorldSBK calendar in recent seasons, and serves as the home this year's Pirelli Italian Round. After its first foundation stone was laid in March 1950, the circuit was inaugurated as a semi-permanent venue in 1953. Its full title is Autodromo Internazionale Enzo e Dino Ferrari, named after father-and-son automakers Enzo and Dino Ferrari.
At this year's event, Hyundai will present two kinds of fleet. The first consists of eight official cars, including two Safety Cars, the FIM Safety Officer Car, the Race Director Car and four Medical Cars. The second fleet is made up of four test drive cars to be used as part of the road and track test drive programme. In addition, race attendees will also have the opportunity to view a display model of the i30 Fastback N.
As the icon of the fleet, the two customised i30 Fastback N Official Safety Cars for WorldSBK feature a livery inspired by Hyundai Motorsport and with a base of Performance Blue, to signify the Hyundai N brand's iconic colour. For WorldSBK, Hyundai Blue has been replaced with white to clearly distinguish the model from race cars.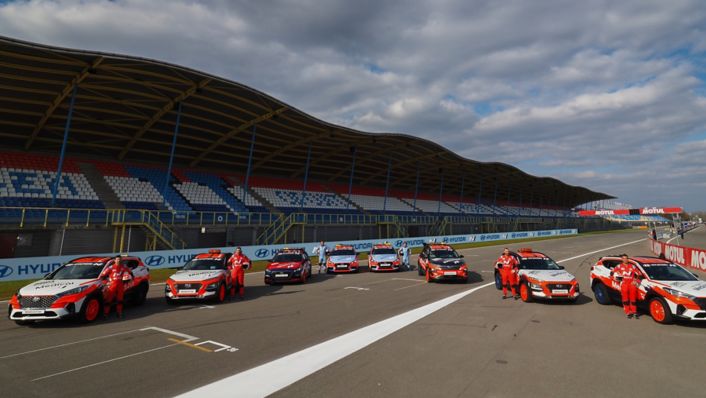 The role of the WorldSBK FIM Safety Officer includes checking the track for safety purposes and this car is deployed on the track in the case of unexpected events. The Official FIM Safety Officer Car is a customised version of Hyundai's high-performance i30 N model. It features an Engine Red body colour to increase visibility during emergency scenarios. It has a wide darker Hyundai Blue colour livery.
The WorldSBK Race Director Car is a customised Kona Electric. Featuring a Dark Knight body colour with Active Red livery, it underlines the authority of the Race Director. As an EV, it also underlines Hyundai's commitment to eco-mobility.
Hyundai also provides two customised versions of its SUV range, the Kona in Chalk White and All-New Tucson N Line in Polar White, for the four WorldSBK Medical Cars. SUV models were chosen due to their ability to carry emergency equipment.
Meanwhile, the four Hyundai test drive cars consist of two models of both the high-performance i30 N hatchback and i30 Fastback N. The livery designs and are aligned with that of WTCR to give participants the feeling of driving a racing car. The body colours available are Performance Blue, Shadow Grey and Engine Red.